1,2,3 Red Light
---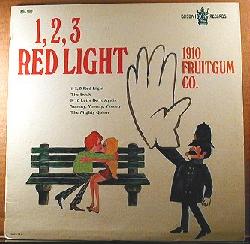 After Simon Says came 1,2,3 Red Light. This album pretty much has the same style as Simon Says. While this album doesn't list who performed on it, it pretty much sounds like it's the same guys that are on Simon Says.
Side 1
1. 1,2,3 Red Light
2. The Song Song
3. Shirley Applegate
4. The Mighty Quinn
5. Yummy, Yummy, Yummy
6. 9, 10, Let's do it Again
Side 2
1. The Book
2. Sister John
3. Take Away
4. Lookin' Back
5. Blue Eyes and Orange Skies

The world was ready for the 1910 Fruitgum Co. People were tired of hearing about violence, wars, riots, etc. Along came the 1910 Fruitgum Co. Over two million people stopped for three minutes to dance and sing along with SIMON SAYS. Over one million people turned to look back and play the wonderful childhood game MAY I TAKE A GIANT STEP - a game that took their mind off the turmoil of today's world. Hey, world, stop again. 1-2-3 RED LIGHT, we love you. That's the 1910 Fruitgum Co. Happy go lucky in a world of make believe. Wouldn't it be great if it were truly a world of happy go lucky make believe.
Neil Bogart
General Manager